Wall-mounted entertainment centers are a great way to showcase your TV and organize other electronic equipment.
With so many different styles to choose from, there's never been a better time to update your home TV unit. Here are our five top reasons to upgrade to a new wall-mounted entertainment center.
Maximize floor space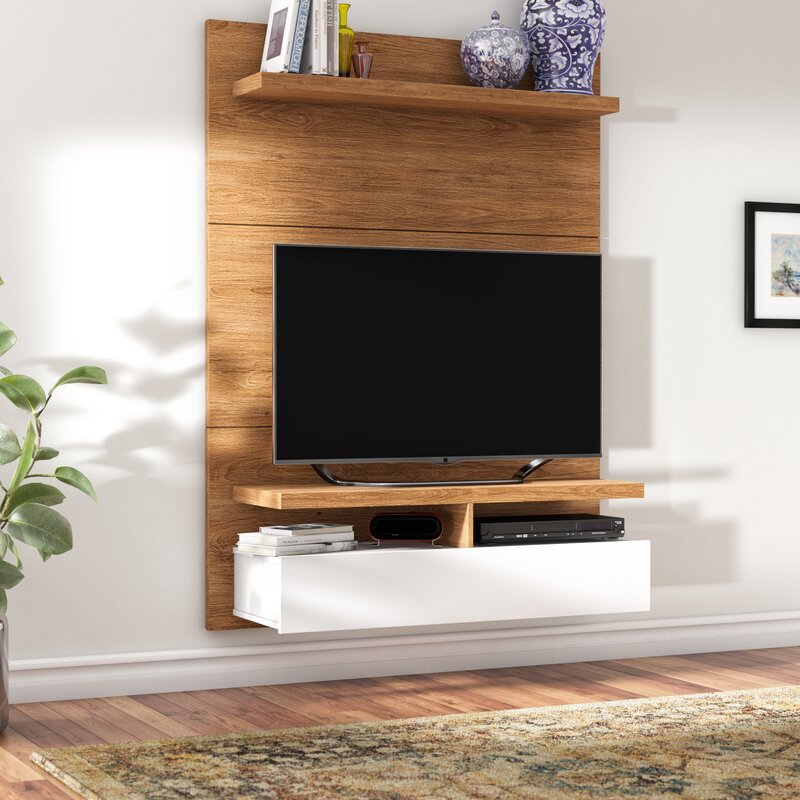 A wall-mounted entertainment center is an excellent choice for any home, making your living room appear much larger.
Unlike traditional TV stands, installing a wall-mounted entertainment center frees up extra space. They also make cleaning a lot easier as you don't have to focus on getting your vacuum cleaner around and under your TV unit. One less hideout for those dreaded dust bunnies!
So, if you're stuck for space, whether you're living in a studio or just don't have as large a living room as you'd like, by transferring your TV and home entertainment equipment to a specialized wall-mounted unit you could accommodate other larger furniture items.
With the extra space, you could also maximize your seating area with some bean bag chairs and get more friends round to watch the game.
Hide unsightly cables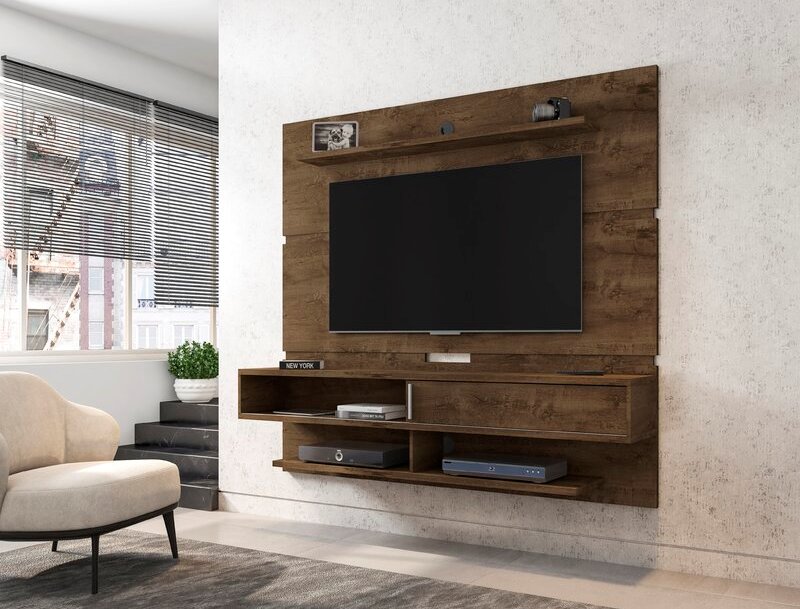 Even if you wall mount your TV, chances are, unless you pay for someone to laboriously cut out your wall and conceal the cables, you're going to end up with a large array of wires disturbing your streamlined look.
Wall-mounted entertainment centers are a fantastic way to easily conceal these cables going to and from your TV, both now and for any future additions, for a modern, uncluttered look.
What's more, even if you're new to home improvement with limited skills, installing a wall-mounted entertainment center is an easy job, well within the grasp of most people.
Simply run your cables from your TV via a concealed hole at the rear of the unit and then connect them up with their devices via an opening at the bottom.
After all, nothing quite spoils a streamlined, modern look more than black trailing cables on a light-colored wall.
Consolidate appliances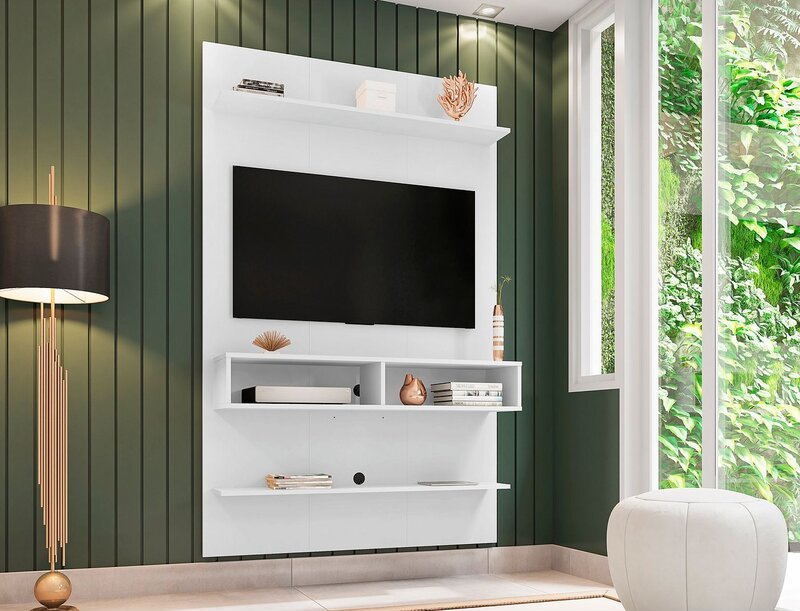 Games consoles, TV boxes, DVD players, and speakers, just to name a few. Install a wall-mounted entertainment center and you can house all of your appliances all together without clutter.
If you're struggling to house your appliances in proximity to your TV, but don't want to go for a wall-mounted option, check out these TV stands with mount.
If you can't keep all your appliances simultaneously wired up to your TV and powered on, then each time you need to switch from one to another can turn into a real nightmare.
With a wall-mounted entertainment center, you can choose a model to suit your needs that can easily house all of your extra equipment. This will make switching from TV viewing to playing a game with your friends as simple as pressing a button.
Stylish focal point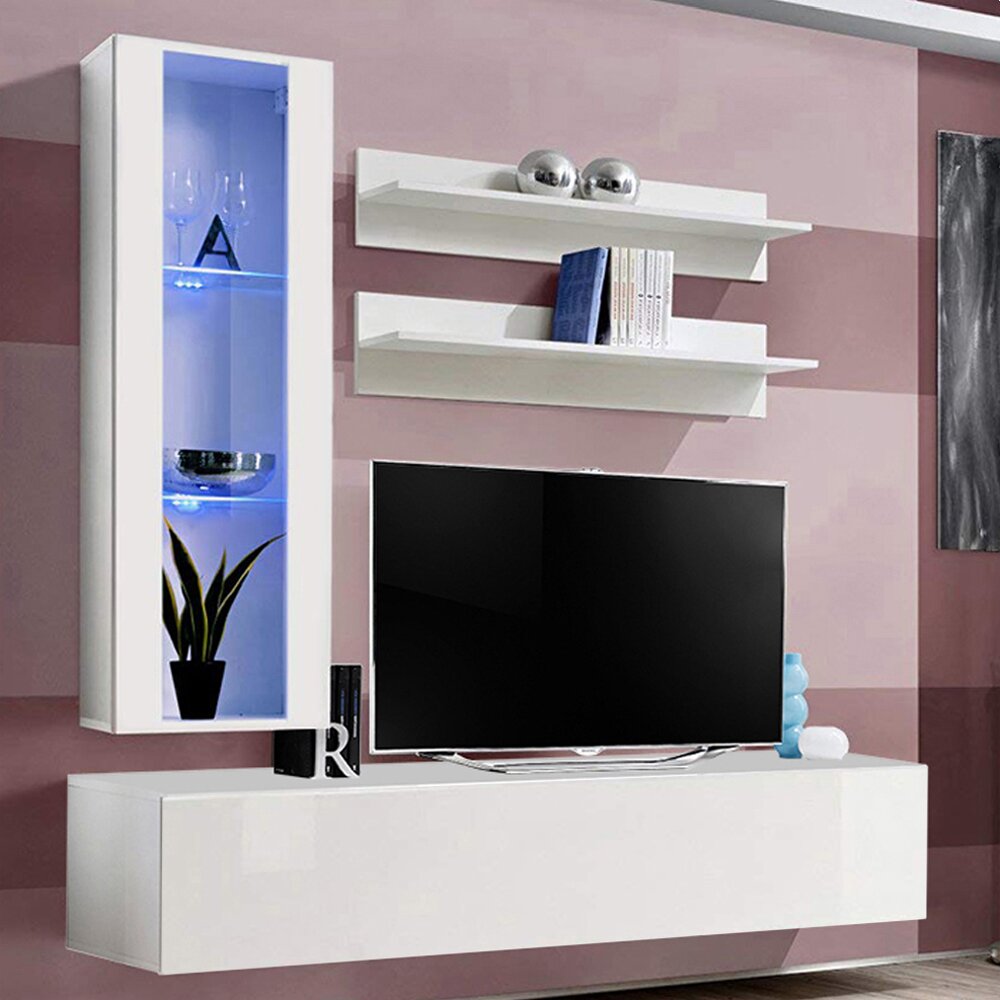 Not only are wall-mounted entertainment centers highly practical, they are also highly aesthetic.
Available in a wide range of styles to suit any decor, your wall-mounted entertainment center will easily become the main focal point of your entire room, so choose carefully.
Aside from housing your TV and related appliances, your wall-mounted entertainment center also makes a nice centerpiece that you can customize with a few decorative items.
Adding items that pick up on themes or secondary colors in your living room will help to create a sensation of unity and really make your home entertainment center an integral part of your decor.
Extra storage
Wall-mounted entertainment centers mostly come with a wide variety of drawers, cupboards, and shelves to house a wide variety of items.
Models with lower cabinets or deep drawers make a great choice for storing toys, accessories, and any other frequent use items that you prefer to keep out of sight but near to hand.
If you opt for a wall-mounted entertainment center with closed storage, you can also easily and neatly store your games console accessories, as well as remote controls. Not only is this an excellent way to banish clutter from your coffee table, it also stops you from misplacing your items and saves you time feeling down the back of your sofa.
Units with shelves are ideal if you want to store frequently used items, keeping them easily accessible for use. They also make a nice display unit that you could use to house a selection of carefully chosen pieces, freeing up space elsewhere.
Aside from ornaments, you could also use your home entertainment unit to house a small book collection, as well as various collectibles, and craft or hobby equipment and projects.