Working from home can be tough. We all know it's much easier to avoid distractions and get stuck in when you have a dedicated work area. But what can you do if you don't have the space for a home office?
Here's how to fit a hidden desk into your home, even if you don't think you've got the space.
Wall-mounted Desk
Wall-mounted desks are a great choice for any home that's short on space. As they don't have any legs, they are easy to get around, and you can simply store your space-saving work stool directly underneath.
Choose a low profile model that can accommodate your laptop and you can even place it in a high traffic area such as a hall or landing, with enough space to get past.
Wall-mounted desks can also be placed in other rooms and double up for other uses. Place one in your bedroom and use it to work, or as a handy dressing room table to get ready before your video call. Use one in your kitchen for typing away by day, then add a couple of bottles, glasses, and nibbles for evening entertaining.
Highly versatile, if you have enough space for a large shelf, you can definitely squeeze a wall-mounted desk into your home.
Fold-down Desk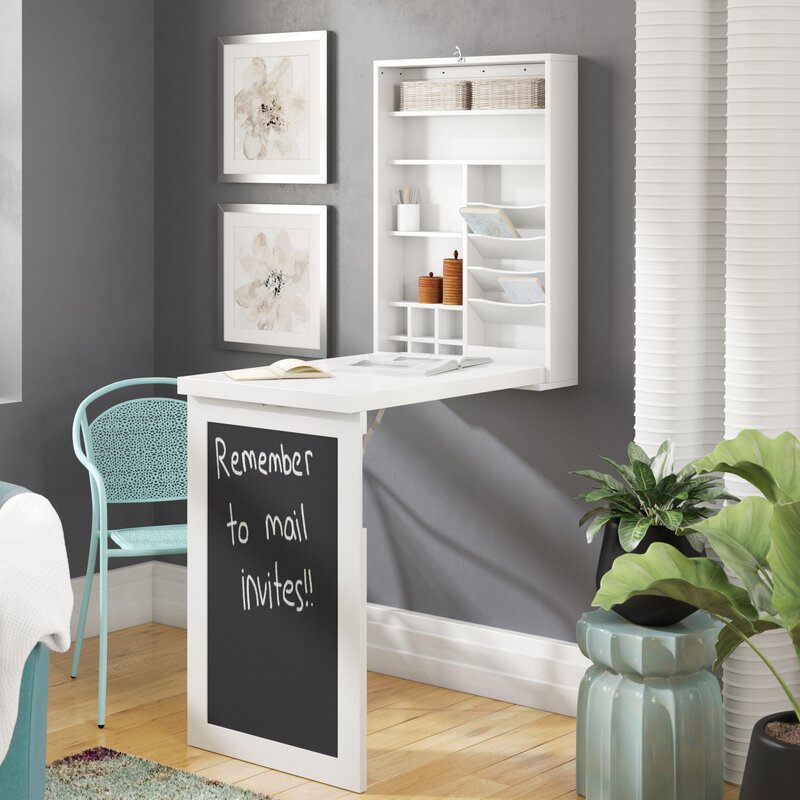 If you don't have enough space for a wall-mounted model, then a fold-down desk is going to be your best bet. When folded up they take up next to no space and when unfolded some models can be surprisingly spacious.
If you like to work with more traditional pens and paper, as well as your laptop, then you can opt for a slightly bulkier version that has some storage space hidden away. This also gives you a great place to store your cables, accessories, and paperwork.
For homes that are really short on space, you can also use your fold-down desk as a dining table or for drinks with friends, crafting, and hobbies. As they fold away to just a few inches thick, you can really fit one just about anywhere, making them the ultimate space-saving home desk.
Closet Desk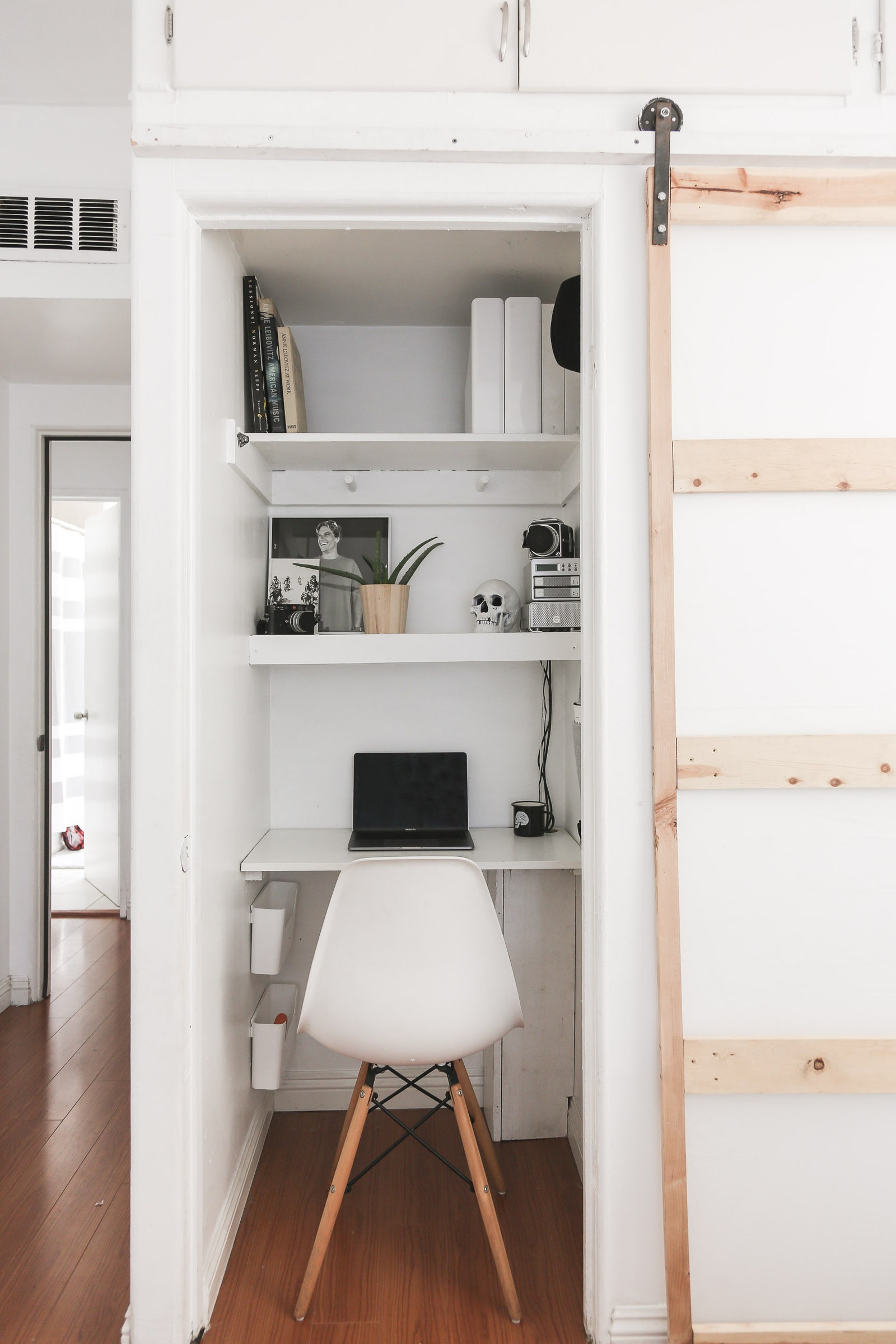 Some of us need a more permanent arrangement than a fold-down desk and more space than a wall-mounted one. Maybe you find it hard to focus surrounded by so many distractions, or need a lot of space to store documents and equipment within easy reach?
You can easily solve all of these dilemmas with a closet desk office. Of course, you'll need to have a closet first, or enough space to create one. However, a closet desk is the closest you're going to get to having an entire home office without the extra room.
Basically, your middle level becomes a desk that fills your entire closet with plenty of vertical storage space for shelves, printers, and other equipment. You place your chair in the doorway and can work entirely undistracted by the outside world of your home.
Best of all, when you're done, no need to waste time tidying away your stuff, simply remove your chair, close your closet door and your working day is done.
Desk Armoire
No closet and no space or the budget to create one? How about an armoire desk?
Customize your existing armoire or purchase a ready-to-use one and you'll have a similar arrangement to a closet desk. Most armoire desks are pull-out models and the double doors make for a nice degree of privacy, working as anti-distraction blinkers.
Use the inside of your armoire desk as storage, you'll be surprised just how much you can fit inside. Add on extra shelves or cabinets to customize your working space. You can even use the below-desk area to house your PC, printer, or any other bulky items.
Coffee Table Desk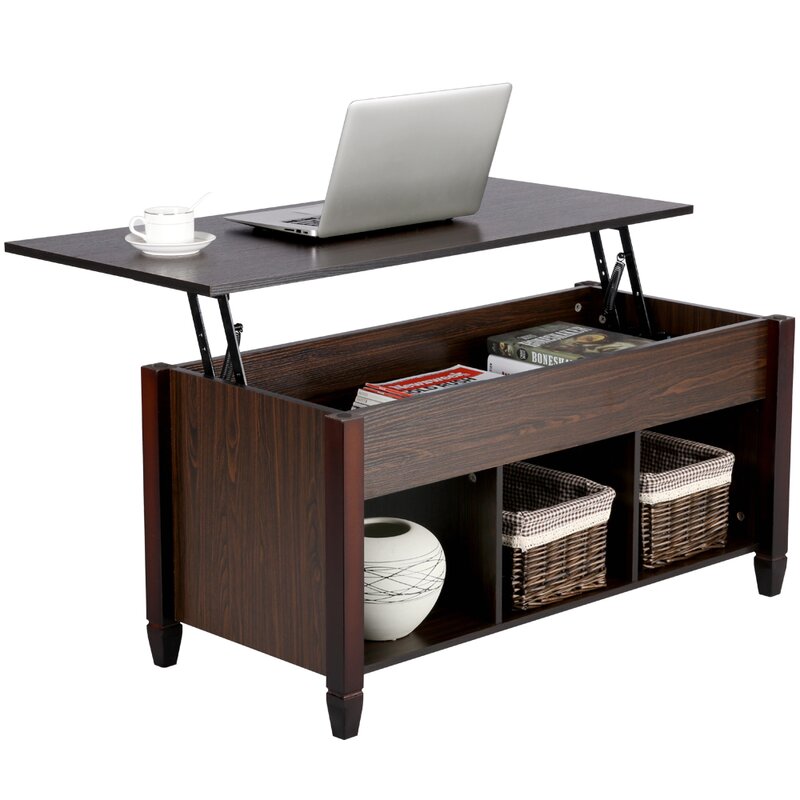 If you don't want to sacrifice your clothes hanging space and can easily work just off your laptop with a small amount of storage, then a convertible coffee table desk could be your perfect match.
Most models have a height-adjustable top that raises for conversion to desk mode. Once raised, there is usually a decent amount of storage within, perfect for your cables and a few small accessories.
A coffee table desk is possibly the ultimate hidden desk, blending seamlessly into your living space. If you have a studio, chances are your coffee table desk will also be useful to double up as a dining table as well as your workspace.
And when you're done working, you can simply fold down your desk and relax without having to even change places.