Light up your summer nights and help keep insects at bay by placing tiki torches around your garden. Tiki torches are a highly affordable way to great atmospheric lighting.
Whether you're relaxing after a long day or holding a party for family and friends, they make an excellent choice to continue to enjoy your outdoor space well after sundown.
Here's how to arrange your tiki torches for the best effect.
Line Walkways
Illuminate your garden walkway by placing tiki torches on each side. This not only looks great, it will also help you to avoid tripping if you have an uneven stone walkway, as well as guiding your guests to where the party is at.
For a spontaneous, tropical look, insert your tiki torches into the ground in a zigzag pattern with the next torch at a diagonal to the previous one located on the opposite side. This look works well with short or winding walkways.
Looking for a more dramatic, modern look? Insert your tiki torches each into a planter and line them in pairs, one each side of your walkway at carefully measured distances. This works best with long walkways where you can use several pairs of tiki torches for a really impressive entry.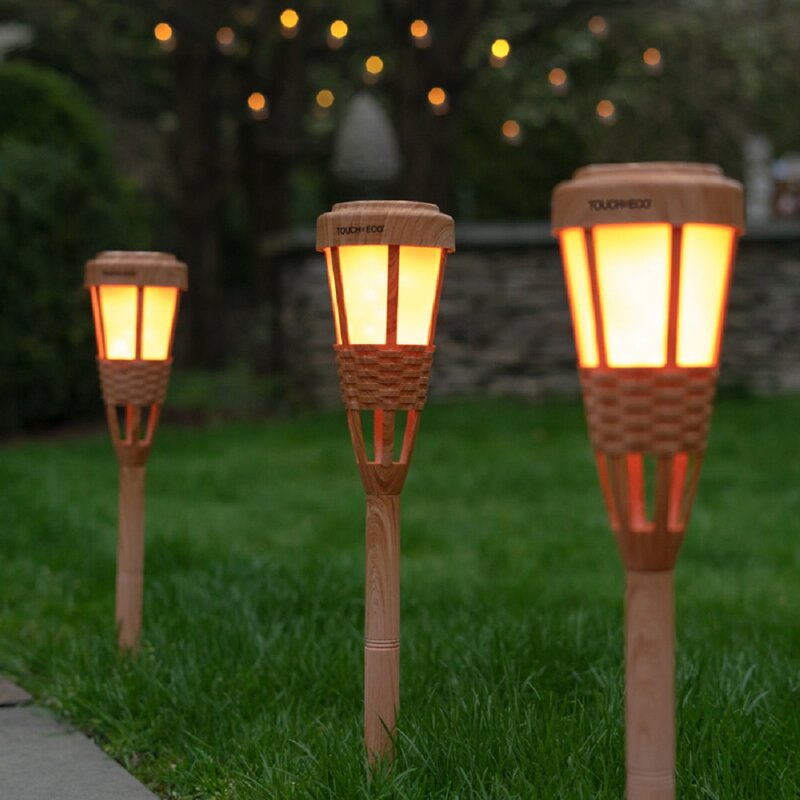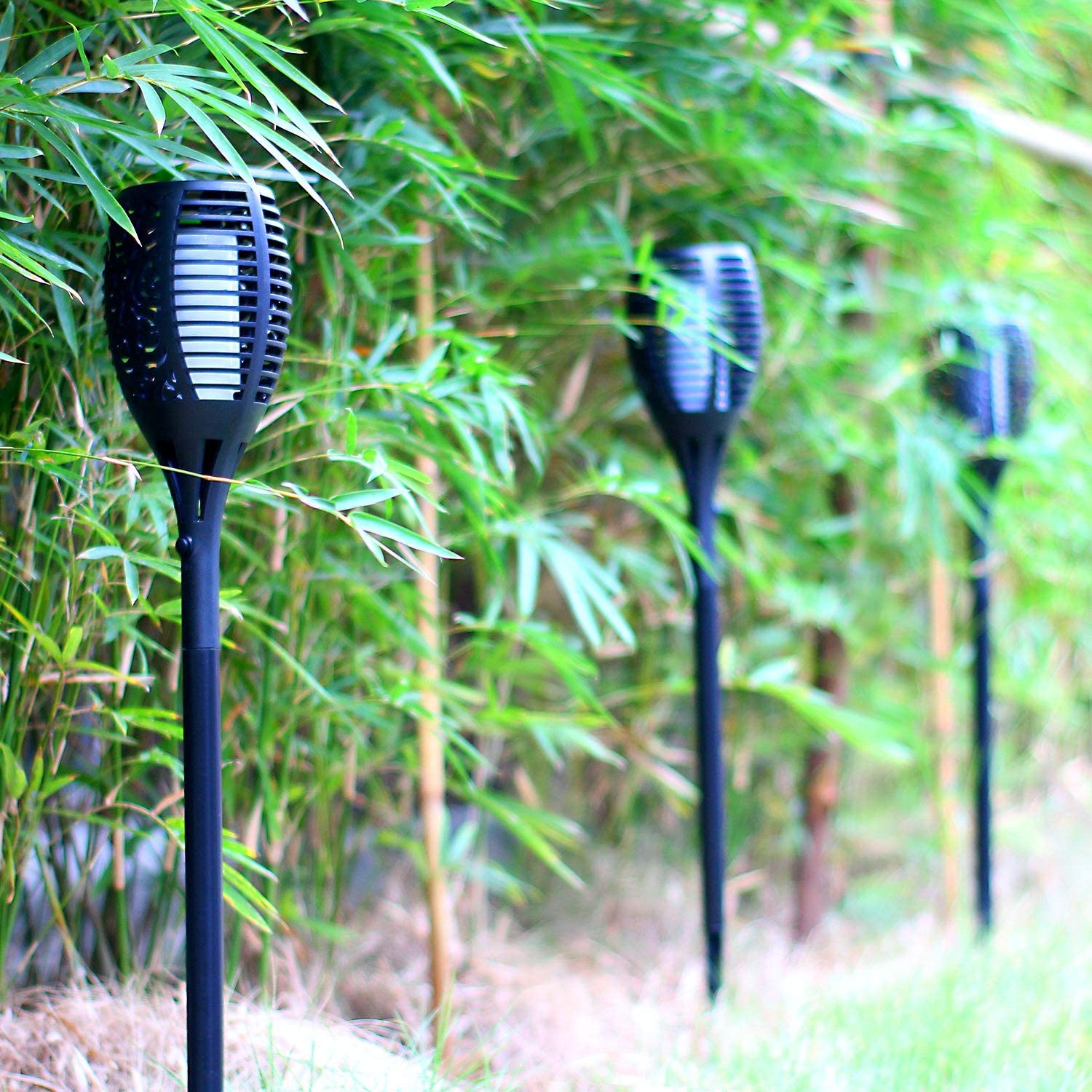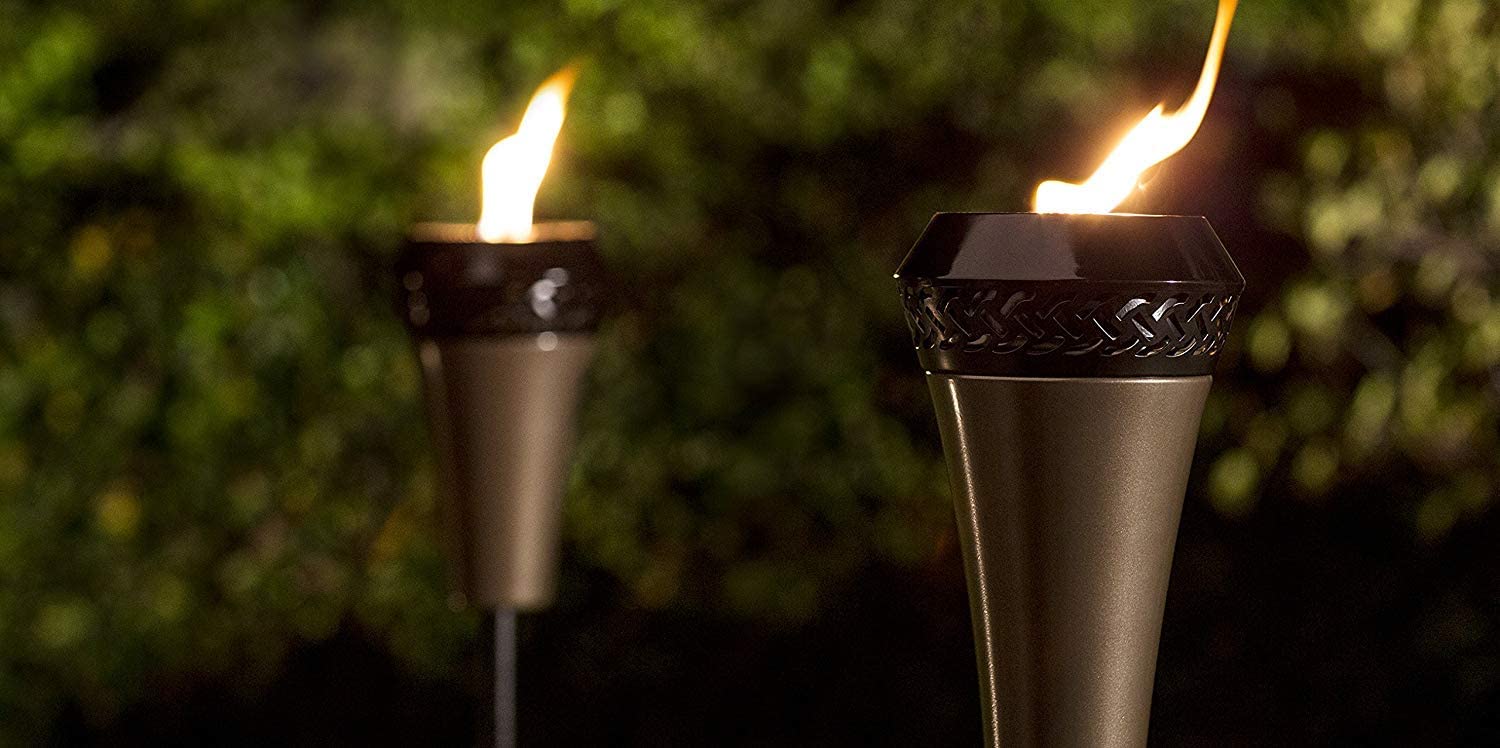 Around your Deck/Patio
Light up your entertaining area by placing tiki torches around your patio or above-ground deck.
Outlining your area with tiki torches is a great idea as they provide plenty of ambiance, especially for relaxing. Aside from the mesmerizing nature of their flickering flames, they will also give your get-together a cozy glow that's not too invasive. Add some insect repellent tiki torch oil and they will also help mosquitoes and other insects at bay.
Depending on your layout and the size of your tiki torches, you may want to use different sized tiki torches to vary your lighting. Or you may prefer a more uniform look with several identical torches placed at highly regular intervals.
In any case, remember to leave plenty of space for your guests to be able to move between your torches and to locate them at least six feet away from your home. If you're short on outside entertaining space, you may want to consider using electric tiki torches.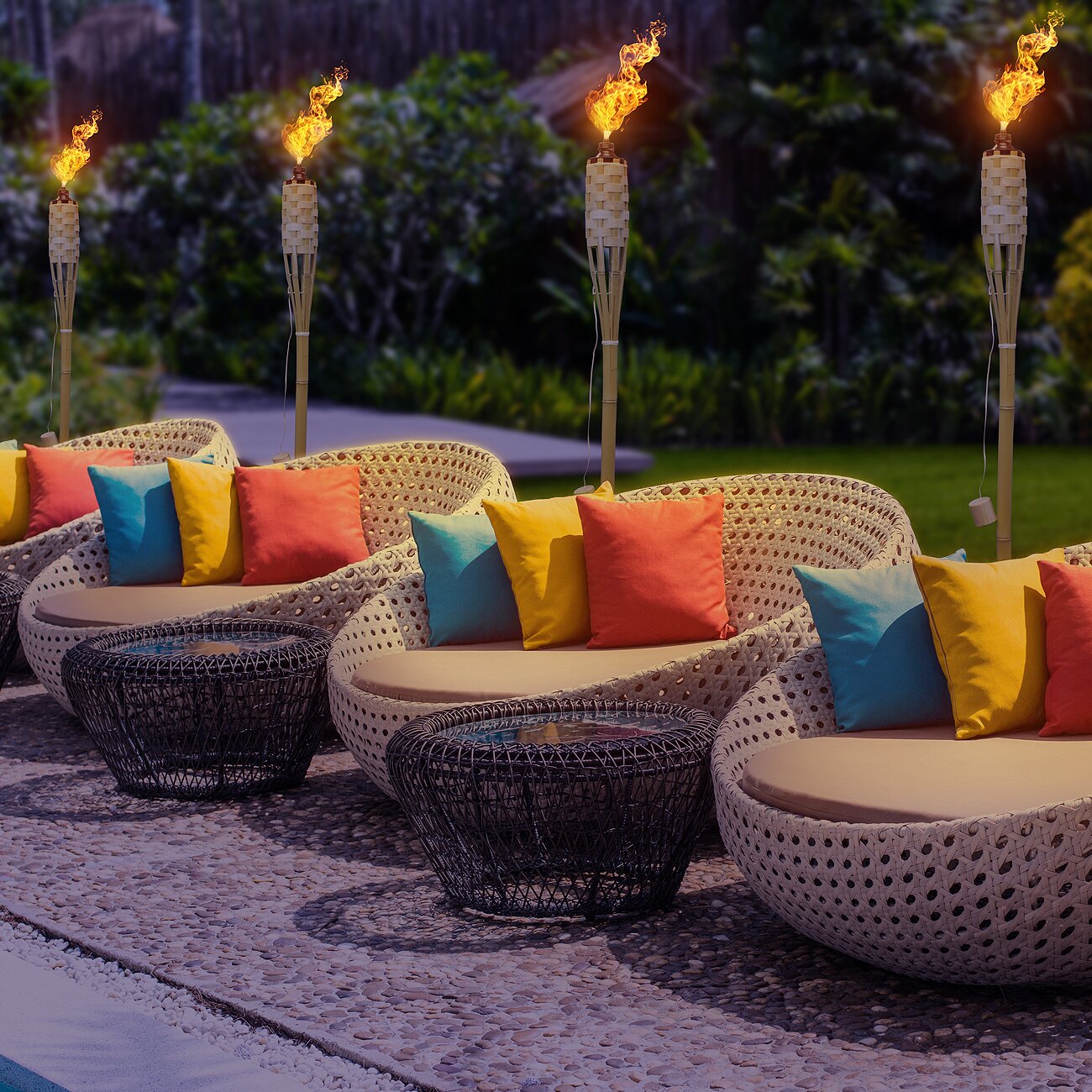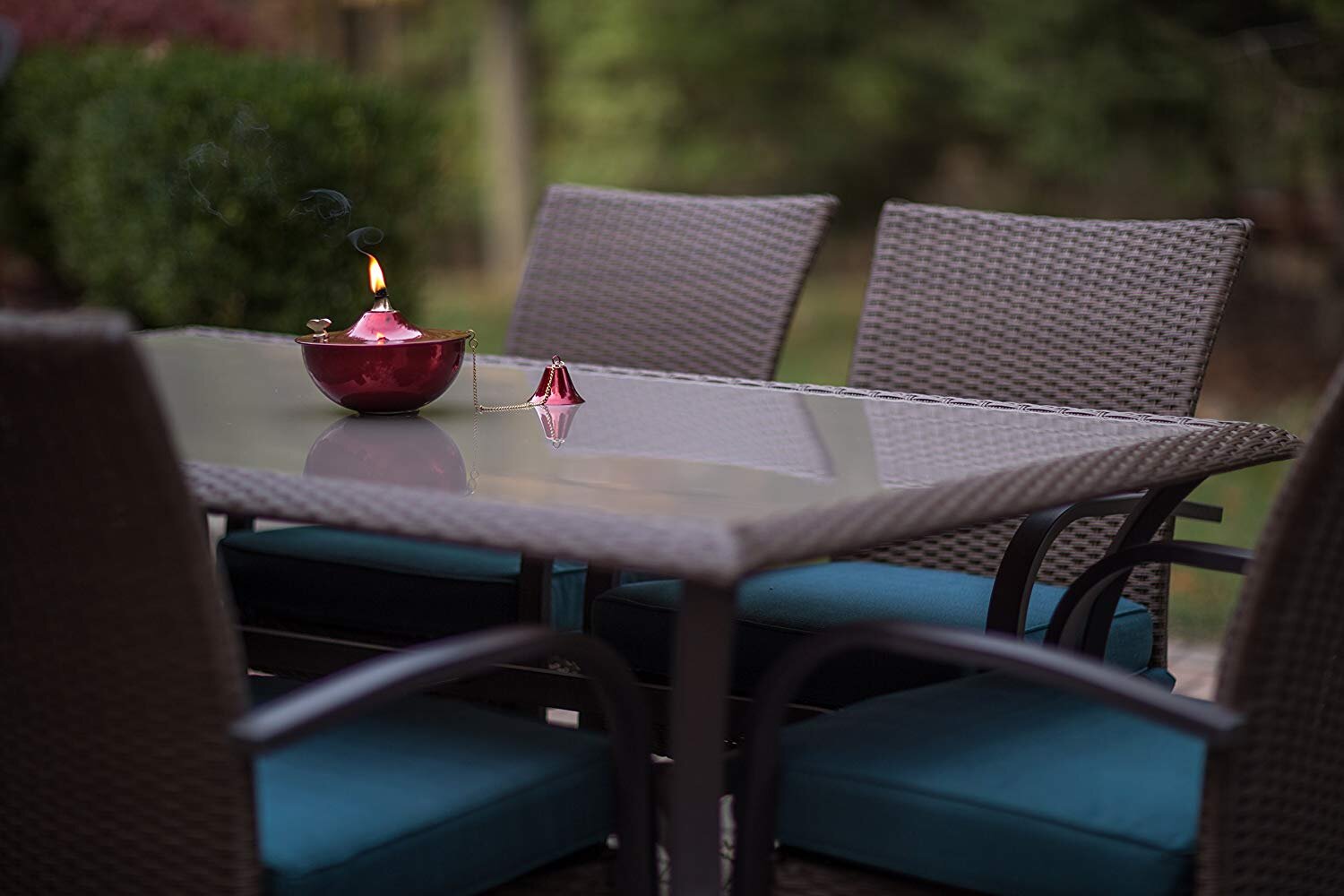 Around Dominant Features
If you've gone to the trouble of landscaping your garden, then be sure to show off your hard work.
Light up your dominant garden features with tiki torches to create interesting focal points and to prevent your guests from walking over your beds or falling into your pool or pond.
Bring a subtle glow to an area with one or two tiki torches to gently illuminate a feature such as a favorite garden statue or your prize-winning blooms. For pools, fountains, or any other water feature, you can use several torches and enjoy watching the light bounce off the water's surface.
Place several tiki torch jars around the edge of raised features or use long tiki torches in planters regularly spaced around your pool to make sure no one takes an accidental splash.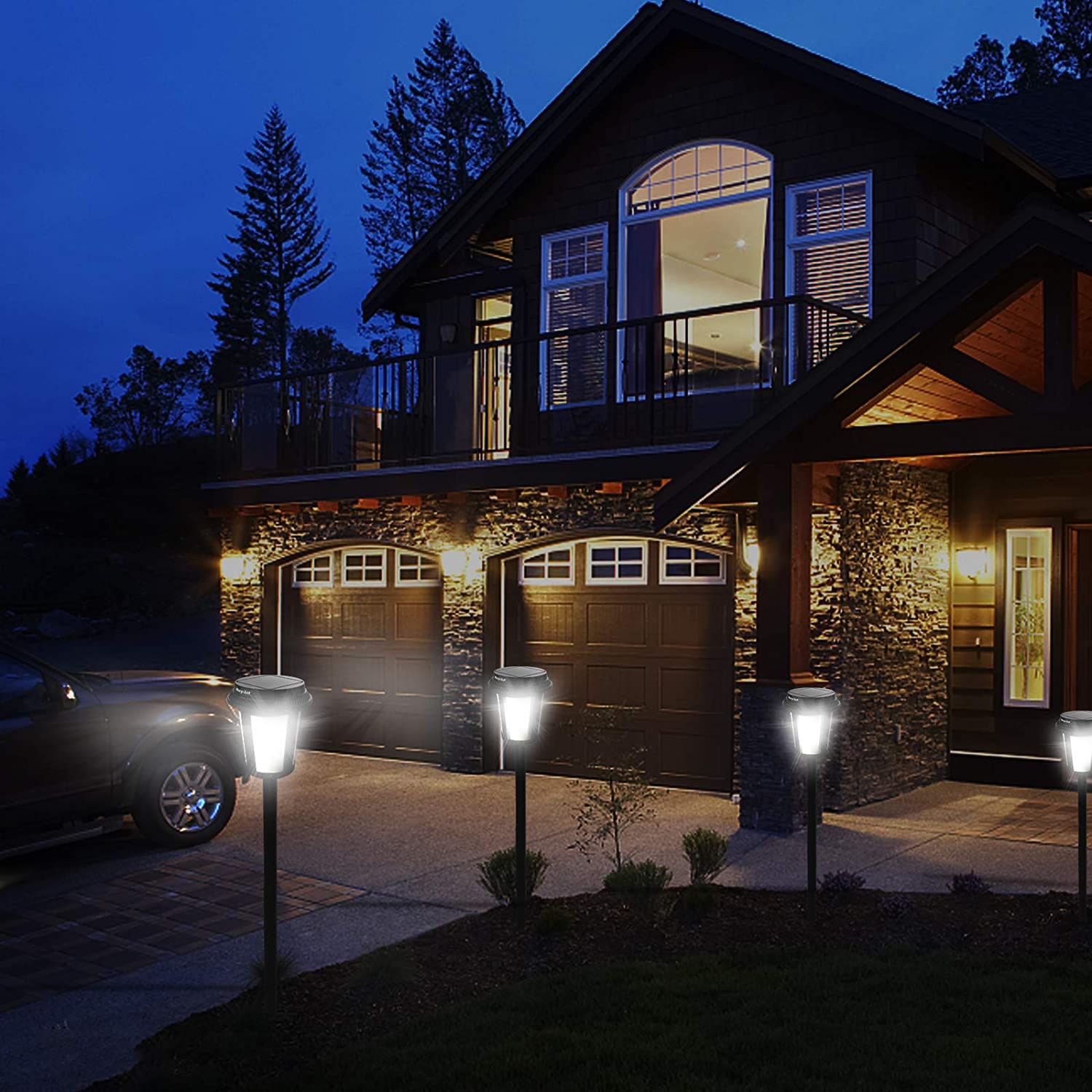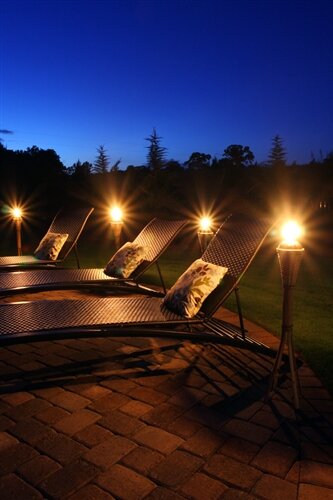 Wall Mounted Along Your Fence
If you are looking for a way to incorporate tiki torches into your small backyard, try using wall-mounted tiki torches.
Ideal if you have pets or kids, you can mount them high up out of harm's way and still enjoy the ambiance. Be sure to look for wall brackets that are specifically designed for use with tiki torches to keep them at a recommended safe distance from your walls or fence.
Place your wall-mounted brackets at regular intervals using identical bottle tiki torches for an evenly lit, modern look. Place different styles of bottle tiki torches at varying heights for a more rustic appearance.
You can also place torches either side of any openings or distinguishing features such as gates, built-in BBQs, or outdoor decorative items such as mosaics.
Tiki Torch Planter Feature
Make a stunning tiki torch focal point that will get everyone talking. Take an extra-large planter and half fill with gravel and stones.
Make sure that it is stable, then add several tiki torches of varying heights, all spaced out well. Fill to the top with the rest of your gravel and check that your torches won't budge.
You can also use different planters with different sized torches to create a tiki torch display. Use long planters with three tiki torch jars to light up low walls around your patio or use different sized planters with different colored jars to create a fun, colorful display of tiki torches to brighten up your party with a quirky vibe.